Wipe Your Way to Ear Health!
Ear Cleaning Should Be Part of Your Dog's Care Routine

Dogs have deep ear canals, and it's easy for wax and debris to build up in there. This can cause discomfort and infections, especially if they have floppy ears or like to swim. But we all know most dogs don't like having their ears touched, and until now, there weren't any gentle, easy-to-use products out there to keep our pup's ears clean.

Make Ear Cleaning a Habit Without the Hassle

Jax & Cali Ear Wipes use the power of natural antioxidant enzymes to loosen ear wax, eliminate infections, and promote ear health. The pre-moistened wipes are non-irritating and non-toxic, so they won't bother sensitive dog ears the way other products can. Use daily to help treat infections and weekly to prevent build-up and keep ears healthy and happy.
Why Jax & Cali Ear Swabs?
ALL-NATURAL
Jax & Cali All-In-One ear swabs are independently tested and proven to cleanse, loosen and remove ear wax while promoting healthy ear function.
ENZYMATIC
Our blend of potent natural enzymes are formulated to control and eliminate infection. ImmunoSEB is a robust blend of 9 powerful antioxidant enzymes created by Specialty Enzymes & Probiotics.
TRUSTED & SAFE
Jax & Cali is dedicated to holistic and natural wellness for your fur family. We push the boundaries by developing products with nutrition and wellness in mind.
BEST PRACTICE
Always use one pre-moistened All-In-One Ear Bud per ear. Safe for daily use until condition resolves. Use once a week for continued maintenance of healthy ears.
MADE IN USA
We are a woman-owned business and our ear swabs are proudly made here in the U.S.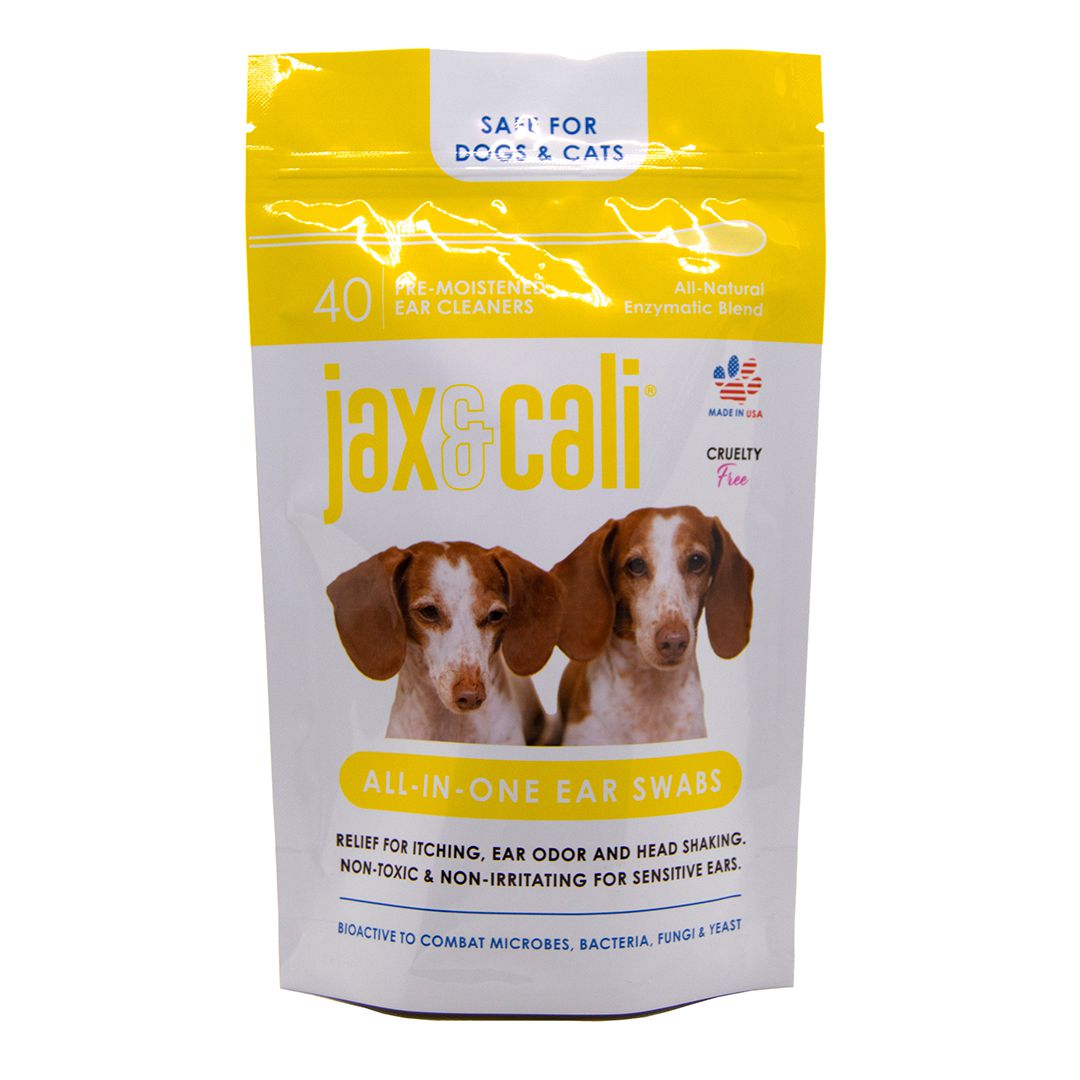 Jax & Cali All-in-One Ear Swabs for Dogs and Cats
Regular price
Sale price
$19.95 USD
Unit price
per
Sale
Sold out
Share
View full details